Posted by Dave Croll on 21st Sep 2018
After a bit of pondering about what to write for the Hilltrek Blog, I had one of those light bulb moments and came up with an idea which was not only relevant to Hilltrek but would provide me with plenty of planning and adventures over the next few months. The idea: to explore the iconic places in Scotland after which we've named our Hilltrek products.
Hilltrek has been in Aboyne producing outdoor garments for over thirty years and proudly boasts #madeinscotland for all those garments. This association with Scotland extends to all our garments being named after something Scottish, most notably hills, mountains or locations which reflect our Scottish heritage.
So there was the challenge – for me to visit each of those locations and have a little adventure at each of them which would mean I could visit some of the wildest, remotest, spectacular places in Scotland.
So, where do I start I thought. Not difficult really as there was only one place to start ……Glencoe.
...there was only one place to start ... Glencoe.
Glencoe is now famous for two things. The first is the infamous massacre of 1692 which is firmly embedded in Scottish history and the second is a more recent battle, a real David and Goliath encounter in 2017 when Hilltrek and the National Trust for Scotland clashed over the naming of a jacket …The Glencoe. Much has been written about both battles so I'll skip going into details and move onto my trip.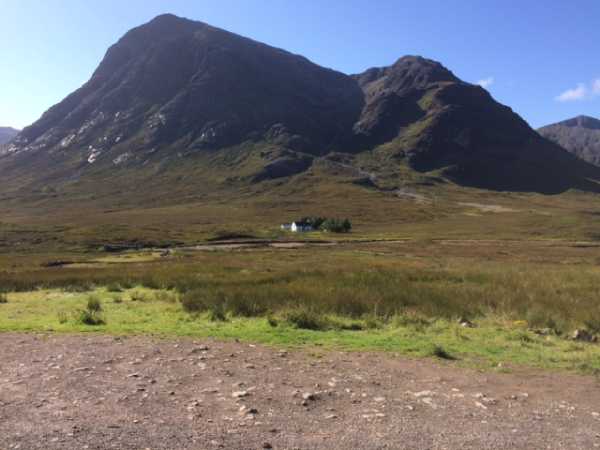 I decided to go to Glencoe after running up Ben Nevis the previous day and the weather changed from wet and windy to a beautiful fine late summer morning. As I left Fort William for the short drive to Glencoe, the plan was to drive through Glencoe and conquer Buachaille Etive Mor which stands proudly at the southern end of Glencoe and is probably what most people think of when they think of Glencoe.
Buachaille Etive Mor is made up of 2 Munros - Stob Dearg (1022mtrs) and Stob Na Broige (956 mtrs) connected via a long SW running ridge. My plan was to take the route which runs up Coire Na Tulaich on the north west of Stob Dearg. Looking at it from the road it looked quite a steep undertaking but as you approach you see a distinctive path which, although a scramble in places, soon leads you up to the summit of Stob Dearg.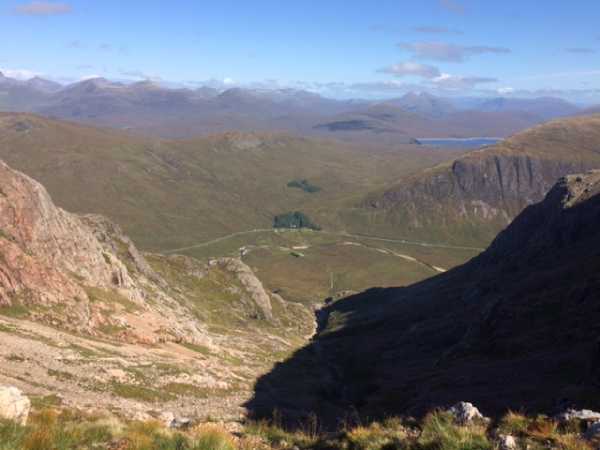 On the summit I managed to interrupt a chap having quite a domestic argument with his better half, so engrossed in his conversation was he I'm not sure he knew I was there but it did give me a chance to take in a fantastic view of Rannoch Moor, another Hilltrek jacket, but that is an adventure for another day.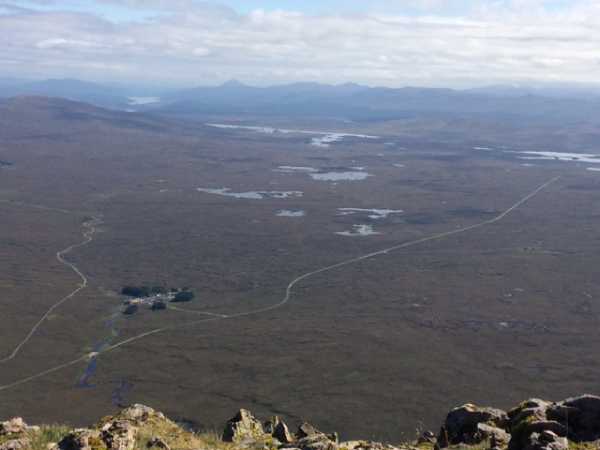 The ridge connecting the 2 Munros is 7 km long, tough, but the visibility offered fantastic panoramic views all around.
The ridge connecting the 2 Munros is 7 km long, tough, but the visibility offered fantastic panoramic views all around taking in Ben Nevis which was totally different from the wet and windy peak of the day before. Although only two Munros on the ridge there are four "stobs" in total so it is a route that undulates but has no real difficulty to it.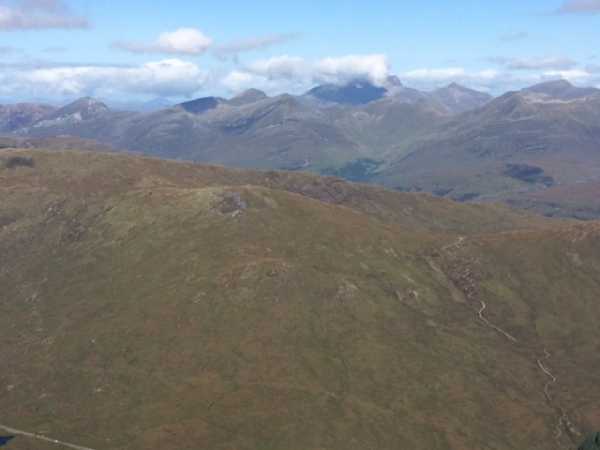 The fantastic views had the unfortunate consequence of making me pay more attention to them and not enough to my feet and the inevitable happened as I approached the summit of Stob Na Broige …. I took a tumble. Not a bad one but it hurt more as, having seen no-one along the ridge, I fell in full view of the one person I met.
As it turned out he was an exceptionally nice guy from the Netherlands who was most concerned about my bumps and grazes although they weren't that bad. Nonetheless, we chatted for a while as he told me he was on the last day of a ten day walking holiday and joked about the mountains of the Netherlands.
From the summit cairn I re-traced my steps along the ridge almost as far as the bealach before Stob na Doire and descended the path down the slopes to the north, keeping to the west bank of the Allt Coire Altruim. The path is good at first but lower down there is some very rocky going with minor scrambling, requiring some care.
From here it was an easy jog back to the starting point on the A82 where I sat having a well earned brew and watched the numerous cars, coaches and tourists as they travelled into Glencoe taking photos and taking in the views.
It occurred to me that I was lucky to live so close to such a fantastic location and immediately thought of the parting comments of my Dutch friend as I left him and wished him a good day, he replied that he would as "on a day like today there is nowhere else I would rather be!"
...on a day like today there is nowhere else I would rather be!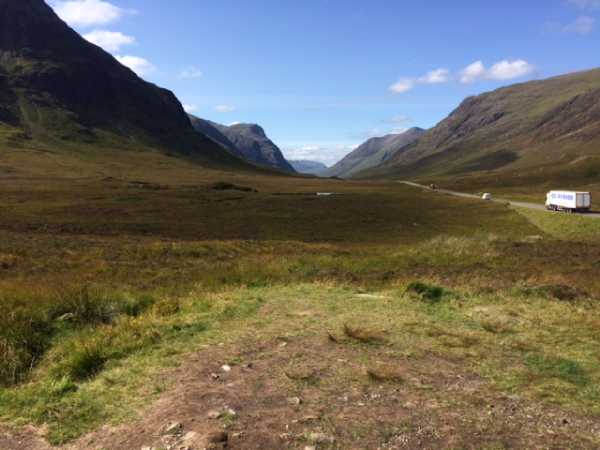 Click here for a full specification of our Glencoe Double Ventile Jacket
Blog article by Dave Croll, Hilltrek.