Posted by Dave Croll on 16th Nov 2018
In my quest to visit locations associated with Hilltrek, I set off to find my next adventure. The starter was obviously Glencoe but my next location just happened to fit in with a hill race I've run a couple of times – Bennachie.
Although it doesn't have the height or fame of the higher Munros of the Cairngorms to the west, the distinctive profile of Bennachie above the flat agricultural landscape of Aberdeenshire is well known to many. Bennachie is actually made up a number of high points or tops. The highest is Oxen Craig (528m) although Mither Tap (518 m) is more distinctive - it's also the site of an Iron Age hill fort.
The 13km Hill Race route takes in both these high points. In recent years the race has proved exceptionally popular with its 200 entries selling out well before race day. It has also been voted one of the top races in the country by both the Daily Telegraph and Woman's Running Magazine.
Although competitive events, hill races are friendly and informal - just folk wanting to run in great places amidst fabulous scenery. No goody bags and bling, just vast amounts of mud, cakes and coffee.
Like most races, a frantic start soon gives way to a settled pace. However, a hill race isn't a hill race without a hill and you soon find yourself climbing from the Visitor Centre start to the top of Bennachie where the various high points are joined by a network of footpaths making for great running. Bennachie is a popular weekend location for families wanting a bit of fresh air and the constant shouts of support from them was a welcome boost to tired legs and lungs.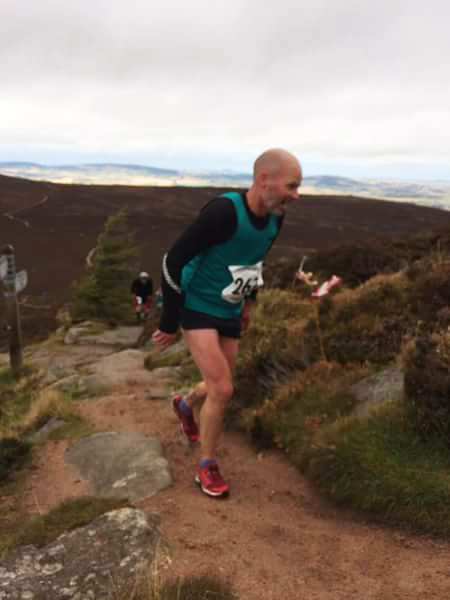 Is that a grin or a grimace on my face?
The good thing about a hill race is that for every step you take uphill you have to take one downhill and so it is at Bennachie. Having climbed to the top and taken in the high points of Oxen Hope and Mither Tap you have the most glorious long downhill run through the fantastically named Maidens Causeway, the woods and trails back to the Visitor Centre.
The social side of hill running means that once finished you chat to your fellow runners, some you know and others you may not, but you share experiences and chat about everything from the route to that niggling injury that held you back from your personal best time!
As it happened, despite being another year older I managed an almost identical time to last year - it was good enough to get the third placed Male Vet 50 prize! There's still life in the old dog yet which leads me nicely onto a song called Bennachie by Scottish folk group, The Old Blind Dogs. Although a happy sounding song it's about a girl who only had two boys court her; one died at the town fair and the other drowned in the Dee! Take a listen here>
Old Blind Dogs' Bennachie aside, you might like to take a look at our Bennachie Fleece Trousers which I can say from experience are super warm and practical.
Dave C, Hilltrek Outdoor Clothing