Posted by David Shand on 5th Apr 2022
The Scottish Nature Photography Awards 2021 winners have been selected by the judging panel, photographers Kit Martin, Rebecca Nason and Niall Irvine. Scottish Nature Photographer of the Year 2021 is landscape photographer Darren Cole, whose winning image portrays a dramatic scene of a muirburn fire below snow-covered peaks near his home on the Isle of Harris.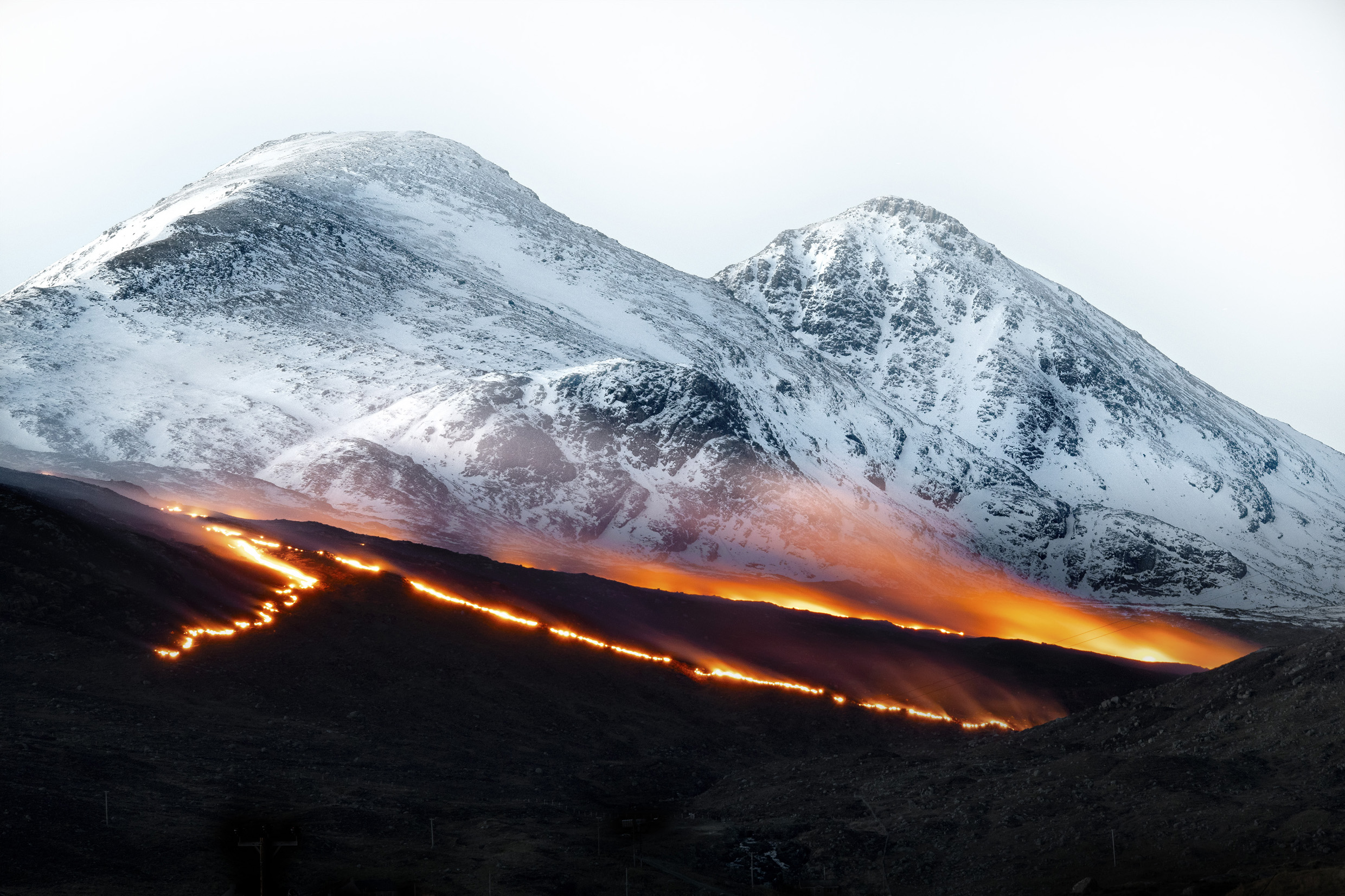 Ice and Fire won the Environmental category before being chosen as the overall winner against stiff competition from a range of abstract, botanical, wildlife and landscape categories.
Kit Martin said: "Ice and Fire is stunning. The competition was fierce in the Environmental category, but this stood out as a striking image telling a story without the need for words. It was unanimously decided on as the overall winner for its originality and visual impact. Muirburn is a controversial subject and one that is current and active, with passionate voices on both sides. Congratulations Darren!"
Darren, who has his own gallery, Hebscape, on the Isle of Harris said: "It was a real thrill to learn that I had won this year's competition and I'm so grateful to the judges for choosing my image Ice and Fire, especially as it is the first time an image from the Environmental category has been chosen.
"As a seasoned landscape photographer, I'm used to spending hours walking on the beaches and mountainsides near my home, looking for that elusive, perfect shot. So it was with some irony that the scene from which Ice and Fire was created, appeared by chance on my doorstep. Following reports of possible wildfires on the island and after several fire engines had raced past my house in north Harris, I opened the front door to be greeted by an Icelandic style scene of snowy mountains and raging fire. The juxtaposition of the dramatic white peaks and the red, rivers of fire below was truly spectacular and just begging to be photographed. With the snow-covered mountains reflecting what little daylight remained, the dark foreground allowed the fire to really pop, creating a stark and dramatic level of contrast in the scene. With the sky cloudless as well, there was little to detract from the almost Tolkienesque vista.
"A few days later, I discovered that the fire was started deliberately in order to burn the top layer of heather away allowing fresh vegetation to grow through, a process known as a muirburn."
Dave Shand of Hilltrek, who is a keen photographer himself, said:
Ice and Fire is a stunning photograph, well done Darren.
Darren Cole wins a Braemar Hybrid Ventile Smock
Other winners include:
Junior Scottish Nature Photographer of the Year 2021: Kaitlyn Clark(age 11)
Student Scottish Nature Photographer of the Year 2021: Murronrose Dunn
Scottish Nature Video Award 2021: Pat Douglass
Winning images and videos can be seen on www.scottishnaturephotographyawards.com
SNPA will hold an exhibition later in the year and winning images will be published along with the shortlisted entries in a Portfolio Yearbook in the summer.
Hilltrek Outdoor Clothing are a sponsor of the Scottish Nature Photographer Awards.