Posted by David Shand on 2nd Aug 2019
As outdoor people our environmental footprint is very important to us, and that care extends to the environmental impact of our garments' components - including raw cotton.
As a small clothing manufacturing company, Hilltrek uses sustainable production methods and we are constantly looking to reduce our environmental footprint.
We moved our business away from a poorly insulated old premises to a new building in 2018 which uses a communal biomass heating system. Other initiatives include eliminating the use of 'single use' plastic in our business.
Our clothing is inherently sustainable - we use components with proven long lifetimes - and we offer repair and refurbishment services for our customers to help restore their prized garments to almost original condition.
Our Organic Ventile® product range is a step in our objective of long-term sustainability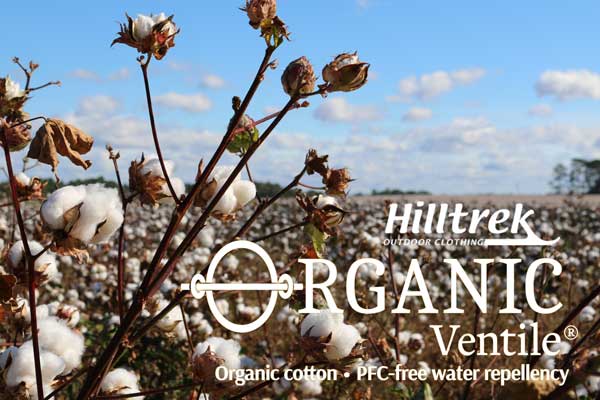 What is Organic Ventile®?
Cotton covers 2.5% of the world's cultivated land but uses 10-16% of the world's pesticides with long term consequences to the environment and implications to climate change.
By contrast Organic Ventile® is made from organic cotton grown without synthetic fertilisers or toxic pesticides, using sustainable methods with a lower environmental impact. This process helps to protect fertile soil, which, in turn, locks in CO2 gas, and supports against climate change. Workers are more healthy, there is better traceability and there is a positive impact on workers livelihood and health. In 2015 alone an estimated 218 billion litres of water was saved by farmers growing organic instead of conventional cotton. With the fashion and textiles industry as the 'thirstiest' industry on the planet, a move toward organic cotton over conventional upland cotton is a step in the right direction.
Importantly, Organic Ventile® also uses a PFC-free water repellency as durable water repellent (DWR), based on paraffin wax in place of C6 fluorocarbon. As well as being powerful greenhouse gases, PFC's are persistent in the environment and a potential risk to human health causing certain cancers, infertility, weakening immune systems and impacting foetal development.
Ventile Organic Fabric are GOTS (The Global Organic Textile Standard) certified. For more information see Ventile Eco Organic.
An investment in Hilltrek Organic Ventile® clothing has an impact far wider than simply having a new garment to wear.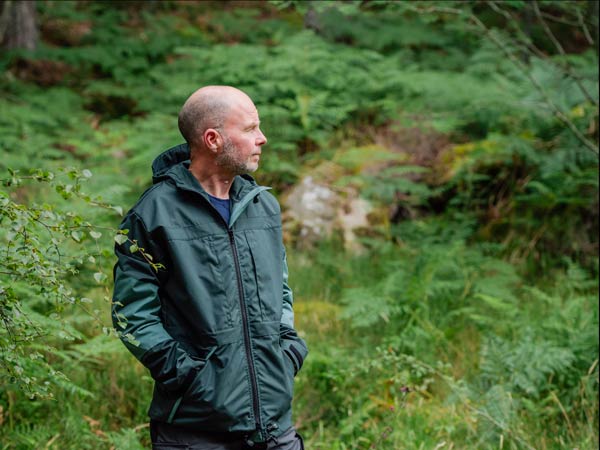 Organic Ventile® performance
The organic cotton used in creating our Organic Ventile® range has no impact on performance - like all Ventile the fabric is durable, highly breathable and quiet. However, the PFC-free water repellency gives the garments a slightly lower hydrostatic head, increased water absorption and no oil repellency compared with non-organic Ventile®.
Most users will not see any significant difference in performance, although the garments will require more care. For professional users this will mean that washing often will require the DWR to be restored with Nikwax TX Direct. We are convinced that many of our customers with a concern for the environment will be prepared to accept the slightly lower performance and more careful care requirements in return for the contribution to a more sustainable existence.
Why do Organic versions cost more?
Organic Ventile® fabric is currently more expensive due to the availability of organic cotton and production methods. We are hopeful that costs will decrease as production increases and the benefits of organic methods bring efficiencies.
What does the logo mean?
Hilltrek's Organic Ventile logo makes use of a Pictish symbol - a reflection of our base here in Aberdeenshire, the centre of the ancient Pictish civilisation. Although the original meaning of the symbol has long been lost, the "O" shape was a perfect fit with our Organic range. It's a nod to the past, for a range which we hope will give us a more sustainable outlook for the future.
Future plans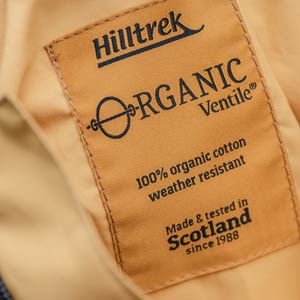 We will continue to add to our Organic range as the manufacturer of Ventile® increases the range of Organic Ventile® available in different colours and weights. Long term, our objective is to offer our entire range in Organic Ventile®.
Find out more.
For more information about Organic Ventile® read: