Posted by Hilltrek on 8th Aug 2017
It's been a funny old fortnight here at Hilltrek. After months of hard work we finally launched our new website which has received many positive comments from customers around the world. Then a few days ago, out of the blue, a sternly worded letter from the National Trust for Scotland's lawyers landed on the doormat. The letter demanded, in no uncertain terms, that we stopped selling our Glencoe Double Ventile jacket and ceased using the name 'Glencoe' which has recently become a trademark of the National Trust for Scotland.
Dave (that's Dave Shand, Hilltrek's owner) was completely baffled by the letter, commenting on Facebook "Is this how small Scottish businesses should be treated? We have been making the Glencoe Jacket for 30 years and how long has Glencoe existed without a trademark. Will our Kintail shirt be next."
"Come on NTS play fair."
"Over the last 30 years we have named our outdoor clothing after iconic Scottish landscapes – many of the names voted by our customers' as their favourite hills and glens. The names are a celebration of the fantastic natural scenery around us in Scotland. It seems incredulous that we could be so aggressively accused of copyright infringement for a product that has been in existence for so long."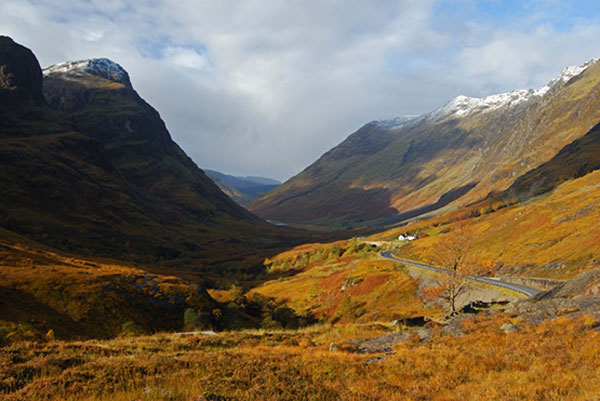 Fast forward a couple of days and this "Dave & Goliath" story has made it into the Mail on Sunday, The National, The Herald, The Telegraph, The Times, The Press and Journal, BBC Radio 4, STV, BBC TV, The Great Outdoors, grough, ukclimbing and BBC Business News.
In an interview with Associated Press, Dave explained his reaction to the NTS letter. "I was really angry, I just couldn't believe it. I was stunned by it. They obviously think that Aboyne and Deeside is too far away to have a geographical connection, but I've been hill-walking in Glencoe since my late teens. I have a connection with Glencoe and our customers have a connection with Glencoe."
"We don't produce huge numbers of jackets and our product is a premium product. It's not a 'See You Jimmy' hat with Glencoe on it. It's a top end product."
Dave concluded "I hope the NTS will approach us and we'll have some useful dialogue rather than this nonsense. This is what I would have expected of them as an organisation — send a letter saying 'you are infringing our trademark but we'd like to know more about your product to see if it fits in with our brand'. That's what I would have expected, a reasonable approach rather than bullying."
Personally I hate bullies, so they've picked the wrong person. I'm determined to fight it."
Dave said later to the TGO Magazine. "My biggest concern is that we don't only sell a Glencoe jacket – we also sell a Kintail shirt, Cuillin jacket, Liathach Smock -all on NTS properties. Who is to say that the NTS will not trade mark these names in the future. Indeed could the Assynt Community Trust not trade mark Assynt in the same way."
It has been reported online on the BBC News website today that a spokesperson from The National Trust for Scotland has conceded that "In retrospect, although the letter sent to Hilltrek was a standard one, it may have been in the circumstances of this particular company too harsh in tone."
"Our letter to Hilltrek was intended to open up negotiation to establish if the company had legal prior trading rights and clearly the wording and tone did not convey this. We would be happy to enter into a dialogue with them with the aim of finding a mutually agreeable solution."
We're taking our own legal advice and have been overwhelmed by the positive response from customers and outdoor enthusiasts across the UK and around the world. Thank you all for your words of support.
The on-line support has been overwhelming with a few helpful commentators willing to solve the problem suggesting that a) we move production to Glencoe which is a wonderful idea but not really practical. b) we change the name to 'Not Glencoe'. c) We name it after a town in New Zealand or a place in Aberdeenshire called Glencoe. Dave grew up close to the place in Aberdeenshire so that was probably the best suggestion.
We have now been contacted by NTS this afternoon (Monday 6th) who have apologised to us for their heavy handed approach and are willing to discuss matters with us.
Whatever the NTS objectives are, we are clear that we will continue to use the name Glencoe on our Double Ventile Jacket. We have used the name for well over 25 years which demonstrates that we have set precedence before the trade mark was registered.
This whole affair has been damaging to the NTS, an organisation who we support in their efforts to conserve Scotland's heritage and landscape.
They rely on funds from members to support the organisation. Many of you, like us, are shocked and even disgusted by their behaviour towards a small Scottish company, however, we ask you to continue to support them.
They need your money.
Hopefully this episode will be a lesson to them that they need to spend it more carefully.
Perhaps they will even concede to offer our Glencoe Jacket and have genuine Scottish made outdoor clothing in their shops, supporting small manufacturers instead of bullying them into submission.
It could have been so different.
We'll keep you posted! Keep an eye out here and on our Facebook page.