Posted by David Shand on 26th Jun 2020
Dear Customers and Suppliers,
It's great to be back again – we plan to open up our shop to customers on Wednesday 1st July.
The health of our customers and staff is paramount so we will operate with some restrictions.
Our shop hours will initially be 11am to 3 pm daily except Sunday when we are closed and as restrictions are eased we will amend our operating hours.
Outside these hours is by appointment only.
We ask you to observe our guidelines.
Please press our door bell and a member of staff will ask you in.
Only one 'family group' of customers -max 4- permitted in shop at any one time.
Customers are asked to clean their hands using the hand sanitiser provided at the door
Maintain a 2 metre distance between staff and customers at all times
All customers are requested to wear masks – masks are offered for sale at the door at 20% off – or bring your own. You are
Customers are asked not to handle goods other than to try on for sizing.
After trying on garments they will be hung on a quarantine rail for 72 hours.
We ask customers to fit the garments themselves, staff will observe.
Payment is by credit card, regretfully we will not accept cash at this time.
Our staff will wear masks and other protection.
No fittings or measurements will be conducted until further guidance is issued by the Scottish Government.
Our toilet facilities are closed to all visitors.
At this time we ask supplier's reps not to visit without an appointment which will be outside normal opening hours.
If you have had contact with anyone who has had Covid 19 within 14 days we cannot permit you to enter the shop. We may also exclude you if you have travelled from an area which has a high incidence of Covid 19 infections.
We reserve the right to exclude any visitors from the shop if they fail to observe our guidelines.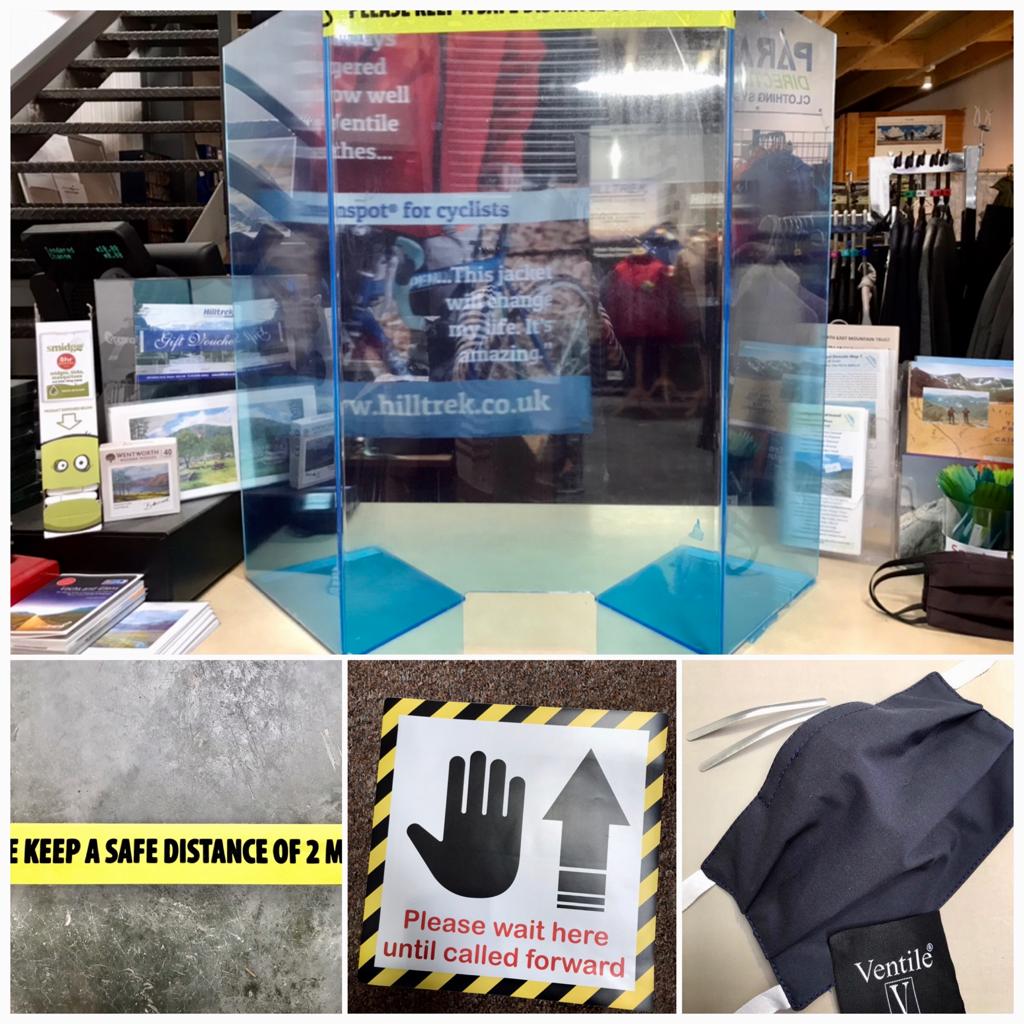 Precautions we are taking to protect the health of visitors and staff:
-Each employee has a hand sanitizer at their workstation
-A hand sanitizer is installed at the till and our office desk.
-We have limited the number of staff working at one time to ensure 2m distancing is followed at all times.
-All incoming goods are quarantined for 72 hours including items for repair.
-We clean all surfaces which may have multiple contact at regular intervals
-Our employees follow government guidance on hand washing, quarantine etc.
-Our staff observe Scottish Government guidelines for self isolation.
Stay safe stay healthy
Look forward to seeing you - at a safe 2 metres of course
Dave and the Hilltrek Team